Regency is the name of a few interior design styles common for different historical eras. All three regency antique styles have sophistication and ostentatious luxury in common. That being said, there are drastic differences between the French, English, and Hollywood versions. From curvy-shaped and lavishly decorated French Regency, through straight-lined English interiors, to playful Hollywood designs, this is our comprehensive guide to divergent styles titled Regency.
French Regency Antiques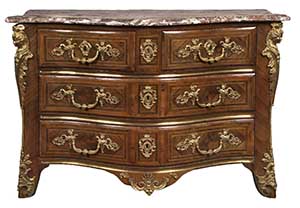 The very first of the Regency styles was French Regency occurred in the first half of the 18th century. After the death of King Louis XIV in 1715, his 5-year-old great-grandson Louis XV inherited the throne. However, until 1726, real power was in the hands of the regent, Philip of Orleans, the nephew of the late monarch.
French Regency marked a transitional stage between the fading Baroque and nascent Rococo styles. Sometimes, French Regency is referred to as Régence or the Late Baroque. Be that as it may, the items carrying the features of this style are like late autumn flowers. They mesmerize with their fleeting beauty. The contemporaries of the Regency era considered it a transient interstyle. 
French Regency occurred hot on the heels of the changes sweeping the country in the first decades of the XVIII century. The country's economy was going through a rough patch and endless wars depleted the national treasury by the end of Louis's XIV reign. The French aristocracy had neither money nor the desire to continue bathing in luxury. For these reasons, unbridled Versailles sumptuousness gave way to a more restrained Regency style.
The highlights of the French Regency antiques are: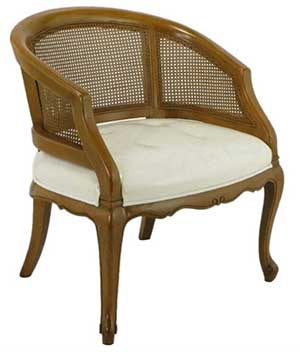 – furniture and furnishings reduced in size and sophistication in comparison with Baroque;
– rejection of strictly symmetrical columns and other structural elements;
– straight lines are replaced by rounded, smooth, and soft ones;
– patterns dominant by a palmette, bizarre shells, and acanthus branches;
– the most prominent motifs are masques, fauns and other mythological creatures, female heads, as well as plant and animal images;
– the woods of choice are walnut, oak, and rosewood; it was common to conceal their textures with veneers;
– bronze, gilded, and marble inlays decorated furniture and interior items;
– an abundance of oriental decor (Chinese porcelain, fans, umbrellas, pagodas, etc.);
– the predominance of lacquered surfaces in the interior design;
– interiors are adorned with dozens of mirrors in luxurious frames.
English Regency Antiques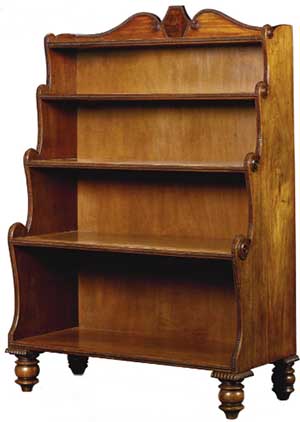 English Regency style came on the scene a century later, at the beginning of the 19th century. In 1811, the heir to the British throne George IV became regent to his mentally ill father, George III. Although George IV was regent for only 9 years, English Regency is usually attributed to the entire period of his reign lasting until 1837.
The dominating interior design style of that era was the French Empire, which borrowed a lot from ancient Egyptian, Greek, Roman, and Gothic eras. Thus, the most prominent features of the English Regency style are:
– symmetry and straight lines;
– columns a-la ancient Greece or Roman Empire decorate rooms;
– the simplicity of the silhouettes is offset by an abundance of whimsical ornaments (grotesques, curls, weaves, etc.);
– massive mirrors in gilded frames, candelabra, and chandeliers used as accents for the walls and ceilings;
– furniture made of expensive woods, often featuring dark colours as well as decorative veneers and metal inlays;
– the predominance of bright colours in wall designs;
– an extensive use of paintings and frescoes mimicking antique art.
English Regency was a transitional stage in the designs of the 19th century. In the late 1830s, the 18-year-old niece of George IV ascended the British throne. She was destined not only to rule the world's largest empire for 63 years, but also become the founder of the beloved Victorian style in architecture, design, fashion, furniture, and art.
Hollywood Regency / Regency Moderne
Hollywood Regency style, otherwise known as Regency Moderne or Hollywood Glam, originated in the mid-1930s in the United States. Its jumping-off point was opulent interiors utilised as spectacular backdrops for motion pictures. Feeling cramped in the confines of movie sets, the style burst out and took over the mansions of Hollywood's Golden Era stars.
A plethora of interior designers rushed to help Hollywood celebrities turn their homes into a refuge for glamour and glitz (the most prominent names are Dorothy Draper and William Haines). Their unique interior projects occupied the spreads of fashion magazines, and everyone who had a deep pocket wanted to recreate their luxury in their own dwellings.
Hollywood Regency drew inspiration from a variety of other styles such as Art Deco, Chinoiserie, Neoclassicism, Baroque, Rococo, Empire style, and others. It also learned a lot from both French and English Regency. Nevertheless, Regency Moderne became a self-sufficient interior style that displays a multitude of signature features:
– lacquered furniture and sumptuous mirrors in luxurious frames;
– exquisite textiles and fabrics (velvet, silk, suede, etc.);
– an abundance of decor items and antiques;
– bright contrasting colours and patterns showcasing wide stripes;
– a skilful amalgamation of antique and Chinese motifs.
Vintage items in the Hollywood Regency style (not yet antiques since they are less than 100 years old) epitomize the impeccable elegance enveloped in an aura of romanticism. The style puts a heavy emphasis on ritziness as well as the irresistible appeal of unabashed luxury.
English Regency Antique Jewellery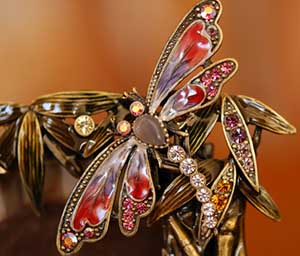 Jewellery showcasing the Regency style echoed the moderate luxury of that era's interiors. It was simpler and more harmonious compared to excessively ornate pieces that were in vogue during the reign of George III. Women's fashion of that period offered papures, i.e. jewellery sets that consisted of a ring, earrings, brooch, necklace, and a pair of bracelets. However, women in the early 19th century did not wear all of them simultaneously since it was a sign of bad taste. They only picked a few items at a time. For special occasions, these items could be complemented with a diadem or tiara.
When it comes to colours, pastel shades were pervasive throughout Regency jewellery, especially pale grey, dirty blue, delicate lilac, white, peach, and pink. Along with that, clusters of vibrant colours courtesy of precious stones provided the much-needed eye-catching detail. The most sought-after accents for the then fashionistas were red with a touch of orange, yellow a la evening primrose, green (similar in colour to a green apple), and also maroon. As for gemstones, rubies, emeralds, sapphires, as well as citrine, garnet, agate, amethysts, aquamarine, and other brightly coloured minerals are the staples of Regency jewellery antiques. This luxury was set in pure silver, silver alloys, and metals embellished with gold plating. It is common to see a mixture of several metals in a single piece of jewellery.
Another popular material of that design era is sea and river pearls. Strings of pearls featured fancy clasps and often carried pendants made of faceted gemstones or cameos. Other common necklace styles featured velvet ribbons with pendants and gold chains completed with teardrop-shaped crystals.
Why Buy Regency Antiques?
Splendid yet unfuzzy Regency antiques are not only a great investment option but also a feast for the eye. The pieces displaying a confection of elegance and subtle beauty will take you back to perhaps the most romantic era in the history of Great Britain.