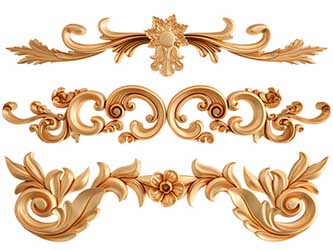 Rococo antiques are a study in quaintness, intricacy, and chic worthy of royalty. If you are looking for items to become the focal point of your interiors or festive looks, you can fully bank on these bold pieces.
Rococo is a style in interior design, applied arts, painting, sculpture, and architecture that was popular in the mid-18th century. Stemmed from Baroque (it is sometimes called Late Baroque), it differs from it in a more refined, delicate, and sophisticated look.
Like many other styles, Rococo originated in France. Tired of the lush and pompous Versailles-like spaces, the Parisian aristocrats of the 18th century demanded calmer designs. When furnishing their estates, they opted for asymmetry, graceful forms, and playfulness.
Rococo came to England in the 1740s. Otherwise known as French Taste, the style largely impacted decorative arts such as woodcarving, silverwork, porcelain, ceramics, and textile. Notably, it was probably the first style to offer original 'national' designs instead of copying patterns and images popular in Europe.
About Rococo Interiors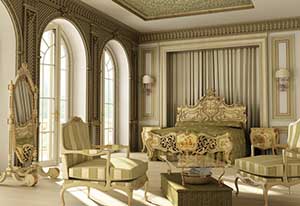 In a nutshell, Rococo antique style is:
• Delicate and light colours teamed up with gold, silver, and copper accents;
• Luxurious materials: expensive wood species, silk, velvet, glass, crystal, forged metals (mainly bronze, brass, and copper);
• An abundance of decorative elements including mirrors and paintings in massive gilded frames, clocks, candelabra, etc;
• The style is based on asymmetry, smooth lines, rounded shapes, as well as nature-inspired, Oriental, and religious, and amorous motifs.
Rococo Colours and Motifs
Compared to their Baroque predecessors, Rococo interiors were fussy to a lesser degree; yet, they were inevitably sumptuous. The Rococo aesthetics is a combination of light pastel colours – blue, green, yellow, or pink – with a touch of white ivory, polished marble, gold, and silver. Every material or colour inherent in this style is visually ethereal and luxurious at the same time.
The prominent Rococo patterns are a plethora of abstract and asymmetrical shapes that create, as it were, a sense of flow and gyration. As a matter of fact, the name of the style comes from the French 'rocaille', which means a shell. Therefore, it comes as no surprise that curls, squiggles, and swirls underlie the visual aspect of the rococo antiques. Besides flowing designs, floral motifs, graceful orchids, slender trees, aquarium fish, cupids, clouds, and other signifiers of affluence were in vogue in the mid 18th century.
Chinese Influence
The Rococo period was marked by a craving for everything exotic and unseen-before. These preferences resulted in the so-called chinoiserie trend that enriched Western applied arts with Chinese (and often Japanese) patterns and designs. The interiors of that time were replete with tapestries depicting pagodas, flowers, or people in traditional oriental clothing. Chinese floral-embellished porcelain, aquariums, oriental rugs, elegant furniture, as well as accessories were not inferior to tapestries in popularity. The common at that time furnishing technique borrowed from the East relied on portable screens that could easily change a room's space.
Rococo Antique Furniture and Interior Items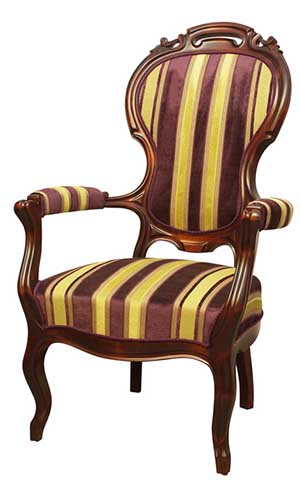 Rococo antique furniture is reminiscent of its Baroque counterparts – both feature floral patterns, graceful legs, as well as repeating S and C-shapes. And yet, rococo furniture is thinner, more graceful, asymmetrical, and coloured in light hues. It is more feminine, if you will.
It was common to complement furnishings with silver, gold, or bronze textile (silk or damask). Metals of the same colours often encrusted legs, panels, frames, fittings, etc.
Despite its stylistic connection with the French style, British Rococo had its own distinctive features. The major factor contributing to their development was the discovery of mahogany, which came to England earlier than to other European countries. The pioneer of the English Rococo furniture tradition was cabinetmaker Thomas Chippendale. His work was shaped by the amalgamation of Chinese art, experiments with mahogany and lemonwood, as well as nostalgia for the Gothic heritage. Rococo furniture a la Chippendale celebrates the texture of the wood and utilises waxing to highlight its innate beauty. In contrast, French rococo furniture was made of walnut or oak that acquired gilding or a layer of paint for decorative purposes.
Despite the lavishly embellished walls and equally ornate furniture, Rococo interiors did not display a striking variety of accessories. One of the main elements of the rooms was a low fireplace covered with a marble slab. Fireplaces normally accommodated gilded clocks, porcelain figurines, jewellery boxes, vases, and whatnot.
Rococo Lighting
The Rococo lighting is luxurious and pretentious. The dominant feature of the interiors of that era was a huge crystal chandelier surrounded by a multitude of candelabras, candlesticks, and sconces in gold, brass, or silver finishes. Lighting fixtures were chosen in such a way as to boost the room's cosines.
Rococo interiors placed great emphasis on natural light. A large number of mirrors complemented tall and narrow windows to visually expand the space. These antique mirrors sat in sumptuous gilded frames, normally oval in shape, adorned with carvings of flowers or angels.
Rococo Silverware
Europe of the 18th century felt an unexplained craving for theatricality. It laid the foundation of table etiquette that pushed back the boundaries of silverware. Cutlery, for instance, turned into a decorative element that accompanied the ritual of eating. Spoons took on various shapes and sizes tailored for specific needs (for soup, tea, sugar, strawberries, etc.). Regardless of the purpose, their shapes were intricately quaint, and the handles carried swirls or shell imagery alongside precious stones.
The Rococo style can be easily recognizable by pot-bellied vessels with bent legs, sophisticatedly curved spouts, ornate patterns, oblique edges, as well as signature shell designs that create the impression of movement. Silver dishes boasted smooth and shiny surfaces that could be doubled as mirrors. Delicate ornaments touched only the edging. Extravagant trays displayed scenes of everyday life inherited from the Baroque style and their massiveness was counterbalanced by swirly designs and openwork carvings.
Rococo Porcelain
The factory in Meissen (Germany) became the trendsetter of porcelain craftsmanship. In fact, until the founding of the factory, Europeans did not know how to manufacture 'true' porcelain. However, thanks to the creative genius of the alchemist Johann Friedrich Böttger and the passion for porcelain inherent in the ruler of Saxony Augustus II the Strong, European-made products weren't inferior to those imported from China.
The factory owned by the Saxon monarch served, first of all, his interests (he was a famous porcelain collector). At the same time, it became a tool for spreading his influence throughout Europe. Luxurious porcelains of rare beauty became welcome gifts for the powers that be. Vases, snuff boxes, figurines, and other items made at this factory can be recognized by intertwined A and P lettering standing for Augustus Rex. Products that were not intended as a gift for monarchs and aristocrats were marked as crossed swords.
In addition to the Meissen manufactory, a list of prominent rococo porcelain manufacturers includes KPM Berlin and The Manufacture Nationale de Sèvres. Many European countries of that period tried to develop porcelain production but due to imperfections in technologies and raw materials of mediocre quality, they did not manage to become flagships in this field.
Rococo Antique Jewellery
Light and exquisitely ornate rococo style replaced heavy baroque necklaces and hefty brooches. In the 18 century, jewellery was common among women and men alike. The latter decorated their clothes with lace frill and brooches while adorning hands with impressive rings and shoes – with gold buckles. Ladies who followed fashion trends of the time opted for luxurious dresses featuring low necklines that reveal the neck. Not surprisingly, necklaces became the dominant jewellery of that period.
Rococo's statement designs included ribbon bows, round or tear-shaped drops, and tiered festoons. Items for the crème de la crème flashed diamonds, which were fairly rare in the 18th century. Despite the fabulous price, their hand-cut facets repeatedly reflected candlelight and pompously emphasized the wealth of their owners. Besides transparent diamonds and white pearls, the upper class of society gravitated towards coloured gemstones (rubies, sapphires, emeralds as well as semi-precious orange topazes and yellow chrysoberyls).
Rococo Revival
Unlike France, the Rococo style did not become the dominant force in England. By the 1780s, it was consigned to oblivion due to attachment to excessive pomp. However, the style did not disappear for good. The second half of the 19th century experienced the Rococo revival to delight with bizarre shapes and intricate details.