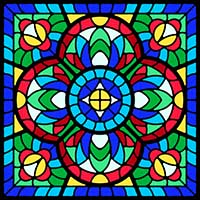 The 19th century saw the so-called period of revivals. Architects, designers, and artists nodded to the cultural heritage of the past. The parade of historical styles included Rococo, the Renaissance, Classicism but medievalism and its inherent Gothic features made, perhaps, the strongest impact. The Gothic Revival (also known as Victorian Gothic or Neo-Gothic) was a dominant force in fashion and interior design for only 30 years (from 1830 to 1860) but it bestowed a multitude of impressive pieces on us. Romantic, eccentric, majestic, Gothic Revival antiques are sought-after by collectors and those looking to add a touch of pizzazz to their interiors.
About Antique Gothic Revival Furniture
The Industrial Revolution made it possible to craft furniture in large quantities. Advances in manufacturing technology greatly accelerated production and brought the cost down. As a result, furniture exhibiting Gothic features became available to both well-to-do and the middle class. Still, decorative elements were often made manually, and the rich could afford pieces entirely crafted by hand. The latter boast incredible quality and many of these items survived to this day.
Mimicking Neo-Gothic architecture, interiors of that era acquired their signature features including loftiness and intricate ornamentation. Furniture was constructed from robust wood species (oak, rosewood, walnut) and varnished in dark colours. The hallmark of mid-19 century furniture is an elongated shape emulating the spires and vaults of Gothic cathedrals. Pointed arch designs became an integral part of chairs, armchairs, and headboards. Another statement piece of Gothic revival furniture is a wheelback chair, which was supposed to demonstrate the spirit of the Middle Ages.
Upholstery materials fully matched wooden elements in their heaviness and monumentality. The most popular fabrics were corduroy, velvet, brocade, as well as leather. The distinctive feature of Gothic Revival antiques is that the textiles are riveted to the frame. Overall, metallic accents are pervasive throughout this style. You can notice metal edging on chests, chandeliers, forged fireplace elements along with deliberately enlarged cabinet handles and hinges. Despite the fact that Gothic Revival furniture seems bulky and cold, it is fairly comfortable and easy to use.
Gothic Revival Motifs
Ornaments and motifs are one more thing that connects Victorian Gothic interiors with Catholicism. Carved panels and upholstery fabrics tended to carry symbols and designs ubiquitous in cathedrals: crosses, rose windows, gargoyles and other mythical creatures, as well as sophisticated floral motifs. Perhaps the most well-known Gothic foliage theme is a trefoil and its four (quatrefoil) and five (cinquefoil) petal modifications.
It was common at that time to use a heraldic ornament in interior decoration. Wealthy individuals were able to order designs based on family slogans, initials, and crests and then incorporate them into different rooms with modified colour schemes. The basic heraldic pattern could be seen on the wallpaper, stained glass windows, tiles, curtains, and upholstery.
Gothic Revival Colour Palette
Gothic Revival takes advantage of natural colours. While the walls were made of light stone or its imitation, the furniture itself, floors, wall panels, and wood decor were predominantly dark. To give contrasting accents, some wood and metal elements bore gilding. Upholstery, cushions, curtains, and tiles offered dramatic rich colours – magenta, ruby, blue, emerald, yellow, etc.
Gothic Revival Home Décor Items
Gothic Revival accessories radiate romantic quality. They paid homage to traditions of the Middle Ages but were historically imprecise. Tin plates, beer mugs, chalices (vessels for communion), bowls, armour, stuffed animals displayed in glass domes, porcelain figures, velveteen cushions – all these elements were supposed to copy the medieval Gothic style. The truth is that just a few of them appeared in Gothic homes for real.
When it comes to lighting fixtures, chandeliers and sconces had forged and carved cornices, lattice designs, stained glass detailing, and brass inserts. Even electric chandeliers looked like candelabra with a multitude of candlesticks. In addition to sconces, the walls accommodated tapestries, mirrors in gilded frames, wood carved panels, and paintings.
Summing Up the Key Features of Gothic Revival Antiques:
Overall, you can identify Gothic Revival antiques if you pay close attention to the following features:
– An eccentric and romantic style borrowing many of its elements from the Middle Ages;
– Silhouettes that resemble pointed arched windows inherent in Gothic architecture;
– Dark colours interspersed with dramatic accents, be it forged inserts, metal fittings, vibrant upholstery, or gilding;
– An abundance of carving;
– Intricate religious motifs alongside floral and foliage patterns;
– The furniture is heavy and dramatic; it possesses extended backs and tall legs;
– Metal decorations made of bronze, brass, iron, and cast iron.
Victorian Gothic Antique Jewellery
The popularity of Neo-Gothic jewellery came along with lavish medieval-style balls that gained momentum in the 19th century. Affluent ones spared no money to carefully copy the dresses and accessories seen on the portraits of medieval nobility. Gradually, designs that were in vogue centuries ago merged into everyday life and affected the fashion of the Victorian era. Naturally, Medieval Gothic and Gothic Revival have only a few things in common, such as a penchant for dramatic colours. Otherwise, you cannot equate these styles.
Victorian Gothic jewellery is bristling with romanticism and intricate lines. It took advantage of swirls, C-scrolls, foliage and strapwork motifs, and even miniature portraits. At the same time, it didn't abandon its connection with religion, and this can be seen in crosses, cherubs, vaulted designs, clustered gems resembling stained glass windows, etc.
Gothic Revival antique jewellery is heavy, openwork, and sophisticated. Made of gold or silver, these pieces beautifully display luxurious gems in vibrant colours – emeralds, rubies, sapphires, Brazilian topazes, amethysts, aquamarines, and, of course, diamonds. Victorian fashionistas kept their most luxurious items for balls and dinner parties while opted for cheaper jewels for everyday needs – agates, malachite, carnelian, onyx, corals, etc. Unlike the Middle Ages when gemstones displayed a cabochon cut, Victorian Gothic gravitated towards faceted stones, although the combination of smooth and faceted inserts wasn't uncommon. Besides metals and minerals, exquisite Gothic Revival necklaces utilized lace, silk, and velvet.