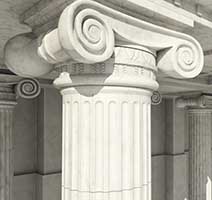 18th century Europe experienced the so-called Age of Revivals. Styles that shaped the world centuries ago made a comeback. They retained their core features yet developed new ones, which made them catnip for contemporaries. One of the most influential of these revived styles was neoclassicism. Archaeological finds in Italy and Greece stirred interest in Ancient Roman and Greek cultures, and soon their distinctive features entrenched in architecture, interior designs, and works of art.
The Neoclassical style started its march across Europe at the very beginning of the 18th century, and France was its jumping-off point. French Neoclassicism is also known as the Louis XVI or Louis Seize style. Neoclassical pieces made in Germany and Austria are known as Zopftil, which later evolved into the Biedermeier style.
The trend made its way to England by 1760. English Neoclassical furniture is frequently referred to as Hepplewhite-Sheraton celebrating the great cabinetmakers of their time. Taken root in Europe, Classicism moved across the ocean to conquer the New World. Its American modification, which came into being by the end of the 18th century, is now called the Federal style.
While each regional style has its own peculiarities, they all share common features such as balance, symmetry, clear geometric shapes, and the spirit of aristocratism.
About Neoclassical Antique Furniture
Rococo, the predecessor of the Neoclassical style, was an adherent of rounded, asymmetrical lines. Designs of the early 18th century tried to mix curves and patterns inspired by the ancient world. However, this did not last long, and soon straight lines completely obliterated playful and whimsical Rococo silhouettes.
Although the revived style nods to Greco-Roman culture, neoclassical furniture does not try to copy its counterparts from the ancient world. Instead, it looks at the architecture of the long-gone civilizations as an example to follow. Indeed, you can see many exterior details in 18th-century antiques such as columns, relief friezes, and carved cornices.
When offering their furniture, French craftsmen always signed it (this was a requirement for all pieces made in Paris). This is one of the features that will help you identify Neoclassical antiques. On the other hand, England-made furniture did not have a mandatory maker's mark. However, history preserved the names and works of prominent English furniture manufacturers, the so-called Big Three – George Hepplewhite, Thomas Sheraton, and Thomas Chippendale. It is noteworthy that the latter two stuck to the Rococo style earlier in their careers but eventually developed a penchant for Neoclassical designs.
Linear Power
If we had to choose a single word to describe Neoclassical antiques, it would be 'straight'. Each piece of furniture made during the 18th century featured either a rectangular silhouette or a clear geometric shape. Chairs displayed straight, tapering legs. Other design boasted column imitations and pilasters with a fluted texture.
The beginning of the 19th century introduced small deviations from purely rectangular shapes. The furniture began to show an inclination to refinement and femininity. This allowed chairs to acquire backs in the form of shields and hearts and supports got accompanied by winged figures. These changes signified the occurrence of the second phase of Neoclassical designs known as the French Empire.
Neoclassical Symmetry and Order
Symmetry, severity, and balance are the three pillars the Neoclassical style stands on. This rule applies to both furniture and decorative items. All proportions, the arrangement of functional and decorative elements, as well as combinations of interior items were implemented with the utmost precision. The laws of equal proportions underlay Neoclassical interiors – the ratio of the surfaces covering the walls should not exceed the free space.
Neoclassical Motifs
Strict symmetrical lines harmoniously co-existed with Classical ornaments. Designers focused on plant and animal motifs, as well as geometric layouts. The most popular decorative elements were discs displaying relief patterns (paterae), curls of foliage (husks), ram heads, ears of wheat, shells, urns, Greek key patterns, meander, etc. All Neoclassical ornaments are amazingly detailed and skilfully wrought.
Neoclassical Colour Solutions
Neoclassical interiors are calm, muted, and light. They take advantage of colours of natural origin: sandy, pearlescent, milky, pale pink, grey, beige, white, etc. Contrasting colours (cyan, blue, yellow, etc.) could be seen in accessories but they are never particularly vibrant. Decor items (such as candlesticks and mirror frames), as well as furniture inlay, often carry gilding.
Materials for Neoclassical Antiques
Luxurious pieces of neoclassical antique furniture were crafted from mahogany. Their more affordable counterparts utilized cheaper wood species such as oak and walnut. It was popular to embellish such furniture with mahogany veneers, marquetry, and ebony insets. Fittings and design elements relied on brass, tortoiseshell, pewter, and gilding for decorative purposes.
We can summarise the key features of Neoclassical antiques using this striking late 18th century commode as an example:
– Made of mahogany;
– both the frame and mouldings carry a rectangular shape;
– fluted pilasters;
– straight tapering legs;
– fittings and decorative elements are made of brass.
Neoclassical Home Decor Antiques
Archaeological excavations in the 18th century gave a clearer idea of what Ancient Roman and Ancient Greek dwellings looked like. The surviving items became a titbit for collectors. This period gave rise to some of the greatest antique collections. Those who could not afford real antiques furnished their homes with skilful imitations.
Vases became the kings of all neoclassical home decor items. They came in various shapes and sizes but emulated antique designs without fail. For example, The Portland vase, one of the most prominent models made by Josiah Wedgwood, drew inspiration from Roman urns. Despite the worship of ancient cultures, neoclassical craftsmen used modern materials including porcelain, ormolu, and silver.
Neoclassical Jewellery
Neoclassical antique jewellery followed the same rules as furniture – geometric shapes, ancient motifs, and perfect symmetry. Jewellers of that period, due to the lack of samples they could rely on, based their products on their own vision of what citizens of ancient Greece and Rome could wear.
The fashion of the second half of the 18th century dictated women to open their shoulders and neckline, and they strived to fill this 'canvas' with exquisite jewellery. Ladies developed a liking towards drop earrings along with massive necklaces resting around the collar bone or long chains surrounding the shoulders. Uncovered arms accommodated stiff bracelets that always came in a pair. Rings gravitated towards large, usually oval, convex-shaped heads. Inlays of various gems propelled the fashion for mineralogical rings.
The second phase of Neoclassicism became the heyday of cameos. Napoleon, being their passionate connoisseur, even established a school of gemstone carving. The most popular mineral for cameo making was agate, although craftsmen did not disdain softer and cheaper materials such as shells, corals, glass, and porcelain.