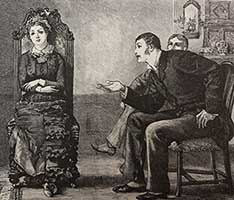 Victorian style is the name of British fashion, architecture, and the applied arts trends emerged in the second half of the 19th century. Named after Queen Victoria who held the throne from 1837 to 1901, this style is deemed as a balancing act between traditions and reforms. Victorian antiques are as unique as Her Majesty herself. They masterly blend visual aspects of the bygone eras and technological advances.

It is common to divide the Victorian period into three stages:
• Early Victorian period (1837-1851);
• Mid-Victorian period (1851-1875);
• Late Victorian period (1875-1901).
Antique Styles of the Early Victorian Period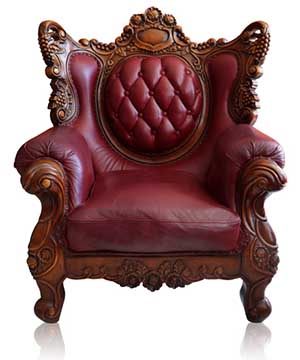 The beginning of the Victorian era coincided with the industrial revolution, which helped Britain earn the title 'The Workshop of the World'. Significant economic growth led to the emergence of the middle class and the new rich wanted to surround themselves with the attributes of a luxurious life. Trying to 'fill the void' around them, they adorned their homes with numerous trinkets, figurines, fabric draperies, paintings, and other amusing gizmos.
According to their ideas of luxury, the most valuable pieces were those created in antiquity. Since real antiques were rare and dear, workshops were vying with each other to offer items emulating the antique style. Today this phenomenon is known as Historicism, i.e. a movement focused on the recreation of historical styles. The early period of Queen Victoria's reign experienced the revival of the Greek style. At the same time, it was marked by a noticeable influence of Eastern cultures (Moorish, Byzantine, Chinese, and Japanese, as you can see in these gilded tea canisters turned into lamps). Quite often, all these styles got fused and distorted.
Features of Greek Revival:
– elegance, lightness, harmony, and straightforwardness;
– light colour schemes (gold, blue, beige, olive, etc.);
– bronze finish used for accents in interior designs;
– common decorations are leaves, shells, and pediments;
– crystal chandeliers;
– glass and mirror stained-glass windows;
– complex patterns comprised of simple shapes.
Antique Styles of Mid-Victorian Period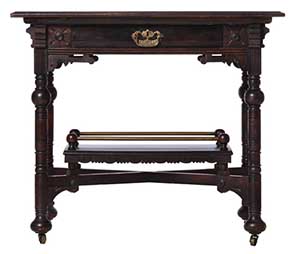 The death of Prince Albert and the outbreak of the American Civil War put an end to the romantic trend characteristic of the early Victorian period. The queen, who wore mourning until the end of her days, accelerated the fortification of the recently formed Neo-Gothic style (Gothic revival). Its gloomy aesthetic aligned with the mourning moods of the grieving monarch, and her subjects, who looked up to her as a style icon, quickly spread Gothic fashion throughout the country.
Features of Gothic Revival:
– forged elements in interior design, metal (bronze, brass, etc.) decor and accessories;
– dark colours combined with gilding and blotches of bright accents (purple, ruby, blue, etc.);
– dark wood as a material of choice for furniture and decor items;
– abundance of natural stone (marble and granite) in interior design;
– ubiquitous textile finishing – textile wall panels, tapestries, lambrequin curtains, pillows in tapestry, velour, and silk cases;
– mosaics, frescoes, coats of arms as wall décor;
– wood carvings;
– mirrors in gilded carved frames.
Neo-Gothic concurred with such a dissimilar style as Neo-Rococo (Rococo Revival). Originated in France in the 1830s, it was a response to nostalgia for the good old days bristling with royal luxury, chic, and sumptuousness. The movement came to Britain a decade later, although in a slightly modified version.
Features of Rococo Revival:
– graceful and sophisticated forms;
– accent on aristocracy and elitism;
– curvaceous and serpentine shapes, rounded corners;
– naturalistic (birds, fruits, etc.), floral, as well as whimsical (mythical animals) motifs;
– favourite woods are walnut, mahogany, rosewood, often adorned with exquisite carvings;
– inserts and decorative elements made of gilded bronze and copper.
Late Victorian Period
When the Renaissance revival movement swept across Europe in the mid-19th century, Britain responded with the Free Renaissance Revival style. Like many historical styles that originated in the Victorian era, Neo-Renaissance was eclectic. Furniture and home décor constructed during this period is typically bulky and overloaded with fine fractional designs.
Features of Renaissance Revival:
– factory-made furniture;
– predominance of walnut, oak, ash, and pine in furniture and interior designs;
– massive rectilinear forms;
– decorative inserts of ebonite, bronze, and mother-of-pearl;
– luxurious thick multicoloured fabrics;
– floral and animalistic motifs;
– rooms decorated with busts, masks, and scrolls.
How to Identify Victorian Antiques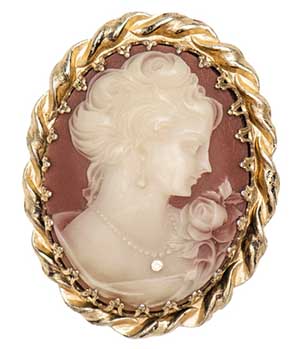 If you intend to get your hands on Victorian antiques, you should learn certain signs that help distinguish an original piece from an imitation or reproduction.
Victorian Porcelain
Porcelain made during the Victorian era normally carries manufacturer marks on the bottom or back. These marks were applied manually so you should expect imperfections such as smudges, fading towards the edge, etc.
Although the Victorian era spawned the emergence of numerous porcelain factories throughout Europe, you are able to recognize a particular manufacturer by its signature patterns and designs. For example, the Irish company Belleek is known for its wicker basket patterns as well as traditional Irish shamrock images. The German factory Meissen supplied porcelain figures and items featuring lush Rococo ornamentation, while the French manufacturer Limoges made a name for itself by adorning their products with delicate floral images.
Even the best-preserved Victorian porcelains are bound to bear traces of wear. Fine dark cracks (crazing), uneven glaze, or rough patches on the base of an item are signs of authenticity.
Victorian Gold and Silver Commodities
Victorian jewellery carries a manufacturer's mark as well, which was a mandatory requirement of the guilds. Hallmarks provide a wealth of information about who made an item, when it was made, and from which material. Until 1854, gold pieces could be marked only with 18 or 22 stamps (respectively, 18 or 22 carat gold). However, due to the increased demand for cheaper alloys, jewellers introduced 9, 12, and 18 carat gold along with respective hallmarks.
As for silver, silversmiths were required to apply 4 marks: town and manufacturer images, as well as the statutory sterling standard and the date of testing applied by the assay office. This silver and cut-glass claret jug, for instance, carries the marks of Elkington & Co, Birmingham under the lid and on the mounts. Rare or mysterious town hallmarks can greatly increase the value of your Victorian antiques.
F = Foreign Silver
If your product bears the F mark it means that it is of foreign origin. Unlike sterling silver, it doesn't necessarily feature 92.5% of pure silver. At the same time, British manufacturers were also looking for ways to make their commodities more affordable. Sheffield craftsmen, for example, placed a sheet of copper between two plates of silver. You can identify their pieces by a hallmark depicting a crown, a lion, and the profile of a man's head. Jewellery made of Sheffield silver belongs to valuable Victorian antiques despite lower silver content.
While English jewellery manufacturers labelled their goods with a maker's mark as a kind of advertisement, their American counterparts did not consider it necessary. Even if a hallmark was there, it was usually applied to an area prone to wear. Therefore, today it is a tall order to identify a manufacturer.
Accessible & Cheap Victorian Jewellery
As the Victorian era saw the heyday of jewellery for the middle-class, Victorian antiques show many examples of how jewellers tried to cheapen their products:
– vermeil – jewellery with silver at its core covered with a layer of gold (hallmarked as sterling silver);
– rolled or 'washed gold' – application of a thin layer of gold over a base metal, normally copper; such pieces, as a rule, did not have a hallmark;
– semi-precious stones – while affluent noble families could enjoy diamonds from the recently discovered South African deposits, the middle class bought jewellery embellished with diamond-like clear topazes and rock crystals; similarly, Bohemian garnets substituted rubies, and tsavorite and demantoid stones doubled as an inexpensive alternative to emeralds;
– doublets – these are kind of an iceberg where the tip is a genuine precious gem while the 'underwater' portion is glass or a semi-precious stone glued to it.
Why Buy A Victorian Antique?
Victorian antiques are gorgeous pieces created during the prosperous reign of Queen Victoria. Just like fine wines and art, they possess a great potential of becoming a reliable investment option. Of course, if you make your choices wisely and trust renowned experts in the field of antiques.