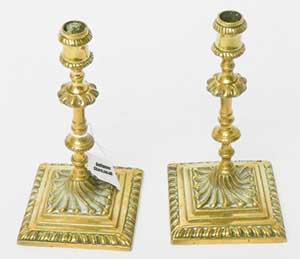 Sophisticated, timeless, and luxurious, Georgian antiques are catnip for collectors. With prices showing upward trends and exceeding thousands of pounds, furniture, jewellery, and household items made during the Georgian era are of particular interest to investors. Whether you're looking for a profitable investment option or a striking accent for your interior, you can't go wrong with Georgian style antiques.
The Georgian style is the general name for several trends in architecture, art, and design that prevailed in England during the reign of the four kings of the Hanoverian dynasty, from George I to George IV. In total, this period lasted from 1714 to 1830. Naturally, over the course of its natural evolution, the Georgian style underwent numerous stylistic changes. Nevertheless, it managed to keep the main features immutable, namely the harmony and symmetry of forms, simple mathematical relations, pale colour schemes with contrast accents, and elegant decor.
Antique Styles Prevailing in the Georgian Era

The Georgian era doesn't represent a single style. Rather, it is a variety of successive styles emerged in a time interval slightly exceeding 100 years. The most powerful trends of this period are:
• Rococo (1730-1770);
• Neoclassicism (1760-1800);
• English Empire style (1804-1815)
Rococo Style
This style flourished in the early Georgian Era. Asymmetrical lines depicting curls, shells, and flowers, whimsical shapes, and intricate curves – these features are Rococo's calling card. The style originated in France, which, as the then trendsetter, had a huge impact on architecture and applied arts throughout Europe. Rococo came to Britain in the 1730s along with immigrants and refugees from France, many of whom were artists and craftsmen.
Rococo jewellery items and household items were much lighter than their Baroque predecessors. Nevertheless, Rococo antiques are inevitably luxurious, elegant, delicate, and reminiscent of the wealth of their owners. The statement aesthetic of this style is seen in a combination of light pastel colours – blue, green, yellow, pink – with white ivory, polished marble, gold, and silver. Rococo patterns create a sense of flow and showcase lots of abstract and asymmetrical details. Floral motifs, graceful orchids, exquisite trees, fish images, as well as echoes of Eastern cultures pervade the items crafted in this period.
Rococo interiors were bristling with carved panels, gold ornaments, and mirrors. Silk or damask fabrics embellished with floral patterns and tapestries became the most fashionable way to decorate walls. The dominant feature of Rococo interiors was a low fireplace finished with a marble slab. The fireplace also served as a haven for clocks, porcelain figurines, and home décor items.
Neoclassicism
Rococo remained popular until about 1770, and its withering coincided with the onset of the Mid-Georgian period. At that time, every noble gentleman had to embark on a 'grand tour' to get acquainted with the world's cultural heritage. Italy and Greece were one of the most popular destinations. Travellers got infected with the ideas permeating continental Europe and upon returning home, they spread them throughout the country. For instance, The Duke of Burlington, being an architect, fell under the influence of Andrea Palladio. After returning to England, the Duke became the main driving force of Palladian classicism (neoclassicism) spreading across architecture and applied arts.
The collision of Rococo and Neoclassicism could have led to a disastrous compromise but the resulting blend turned into one of the most influential and much-loved trends. Straight lines, symmetry, and severity characteristic of Palladio classicism restrained the lusciousness of Rococo designs. At the same time, French sophistication softened the rigid classical style.
Luxurious neoclassicism furniture and furnishings were made of mahogany imported from India, which replaced the local walnut and oak woods. While interior walls bore pale tones, decorative objects sported contrasting and even bold colours, often with a touch of gilding.
This George III table clock constructed circa 1760 showcases the most prominent features of neoclassicism – a clear shape, the abundance of straight lines, contrast colours, and gliding.
English Empire style
The Regency style, otherwise known as the English Empire style, coincided with the reign of George IV. Being the descendant of classicism, it emulated the chic and luxury of the Roman Empire and Ancient Greece. Furniture, interior items, and jewellery made in this period are massive, simplified, and polished, with the emphasis put on their monumentality. While previous styles flirted with antique motifs, the Regency attempted to copy them. At the same time, it is not devoid of a search for novelty features and designs, which resulted in the occurrence of Hindu and Gothic trends. In general, interior items of this style abound in fabrics (silk damask, for example), fancy decorative elements (such as claw feet), as well as new technological materials.
How to Identify Georgian Antiques
While genuine Georgian antiques carry a lofty but fair price, it is uncommon to come across 'affordable' items marked as Georgian but not Georgian in essence. Luckily, production technologies and materials used at that time should clue you in on the real thing. Here is how to distinguish original Georgian collectables in the example of Georgian jewellery and glass.
How to Spot Genuine Georgian Jewellery
If you take a look at Georgian antique jewellery, you should notice the signature crimped bezel setting. Made of thin metal, it fits snugly against a stone inlay to keep out air and moisture. As for the inlays themselves, jewellers inclined to combine clear gems with silver closed-back settings, while coloured stones were mounted into gold. To increase lustre and reflectivity, a foil or thin plate was placed between a gem and the setting. More often than not, this foil was made of silver-plated copper for clear inserts. Jewellery that has survived to this day often exhibits copper stains.
In a similar way, jewellers tried to enhance the vibrancy and reflectivity of coloured stones, the only difference being that they used coloured foil. If a stone was opaque, its setting would display an open back.
Diamonds in the Georgian era were pretty rare. Due to imperfections in the processing technologies, facets tend to be non uniform and shallow. Diamond inlays are often irregular in shape, and their size varies in a product. The diamonds themselves are rather of poor quality due to inclusions. As for cuts, the most popular were cushions and rose cuts, and in the late Georgian era, jewellers experimented with round cuts.
Along with gemstones, Georgian jewellery has a penchant for glass stones, which are also called paste. The highlight of paste settings is a black dot that was supposed to give a stone more depth.
Georgian jewellery is lightweight as many materials were either unavailable or their supply was limited. These pieces were handcrafted and did not carry any hallmarks or engraving. One of the most significant trends of this era is conversion. Brooches, for example, were able to turn into buckles. At the same time, many accessories and ornaments were repurposed into something else. For instance, buttons were utilised to craft rings.
How to Spot Georgian Glass
Superseding Venetian soda glass, English lead glass became the dominant force in the market at that time. Antique glass objects and drinking vessels are much sought after. If you are hunting down authentic Georgian glasses, you should pay attention to their proportions – the foot should be wider than the bowl. In addition, items are bound to carry so-called scars. The pontil scar sits on the foot as a result of the removal from the blowpipe. On top of that, the bowl must have vertical marks that run down to its base.