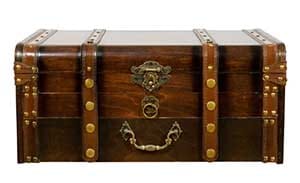 Many people have a fascination with antique products. They are so aesthetic and contain so much of our history. So, no wonder antique boxes are one of the most popular items among collectors. If you are about to purchase an antique box read this guide first. This in-depth antique box buying guide will help you navigate all the due diligence, various terminology, and the different types of containers available from the different eras.
Brief History Of The Antique Box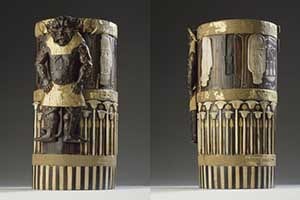 Antique boxes, chests, storage boxes and other box-style containers have been among the most popular and necessary household (and commercial) pieces of furniture throughout the ages, and this is still true today. As far back as the ancient Pharaohs, boxes have been used for storage and decoration. For example, Pharaoh Amenhotep II (1427-1401 BC) had a beautifully carved and decorated cylindrical box made to honour his reign. (Add Image)
Middle Ages Boxes & Chests
Boxes and chests made of wood, metal and mixed material has been found from the Early Middle Ages (A.D. 476 to A.D. 1000), High Middle Ages (A.D. 1000 to A.D. 1250), Late Middle Ages (A.D. 1250 to A.D. 1450). The Renaissance period that followed the design and craftsmanship of wooden and mixed material boxes took off with a finely crafted box signifying wealth and status. Boxes came in all shapes and sizes, from marriage chests, coffers to courier boxes. Some of these boxes were prominently displayed by the well-to-do as decorative furniture, thus creating a certain prestige.
Georgian, Victorian & Edwardian Boxes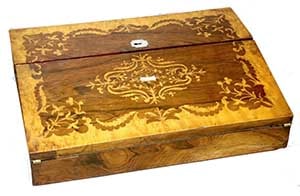 The Georgian period 1714 to c. 1837 saw a massive increase for well-crafted wood objects, especially if it was made by the so-called 'Big Three' wood crafters of the time – Thomas Chippendale, George Hepplewhite, and Thomas Sheraton. The Georgian era saw the slanted top knife/cutlery box, an upgrade to the earlier cutlery boxes dating back to Charles II and which can regularly be seen for sale in antique shops and at auctions.
The Georgian, Victorian and Edwardian periods also saw the popular rise of the writing slope box or the campaign stationery box. These came in all sorts of woods and we're basic to intricately designed. The first stationery boxes appeared around the 17th century, but they became prevalent from Georgian times right up to the mid 20th century.
Reasons To Buy An Antique Box
There are many reasons you might consider purchasing an antique box, whether it's for storage, writing, or display. Here are some of the top reasons why buying an antique box:
Better construction and quality. Antique boxes are famous for being well constructed using sturdy woods and materials aimed at lasting.
When you use or view the antique box you have bought, you will gain a sense of history as the object will have been used by multiple generations and possibly somebody famous.
You are helping the environment. An obvious aspect of buying anything antique is helping reduce climate change by purchasing an already used item.
Antiques Increase in Value
You will usually never lose the investment you have paid for an antique box as long as you look after it well. Generally antiques increase in price the older they get.
Types of Wood
Get to know your woods before you buy…
When choosing what type of wooden box to buy, make sure you know what kind of material it is made from. There are a wide variety of woods used throughout the ages to make boxes and chests, and the specific type of wood used can affect the price. Oak and mahogany are the most commonly found, and these can generally be the cheaper types – depending on who made them, when they were made and the level of craftsmanship involved. Below is a list of some of the primary woods used throughout history: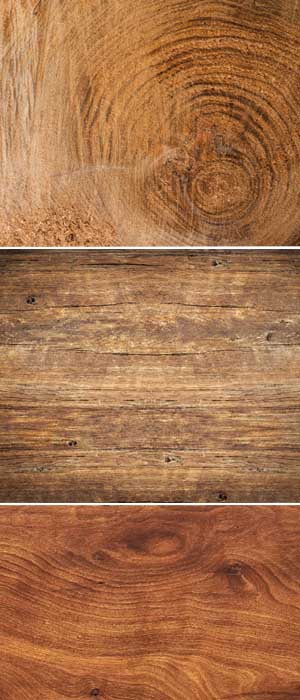 Calamander wood is indigenous to Southeast Asia and India. It is solid, close-grained wood, much like Coromandel, but it is more patterned and uniform in texture.
Ebony is also a solid wood that ranges in color from dark brown to black. You can find its species in Southeast Asia, India, Africa, and some other places. It has been one of the top choices for creating boxes and chests for centuries because of its close grain and capacity. However, English box and cabinet makers employed the use of Ebony in the eighteenth and nineteenth centuries.
People frequently confuse this brighter, more orangish wood with Rosewood as they share many aesthetic characteristics. Kingwood has a definite grain that contrasts against a brighter background featuring deeper brown and black patterns.
This wood has a reddish-brown color, and it can be plain or vivid, detailed. Builders used it in housebuilding, furniture manufacture, shipbuilding, and other industries for ages, and it forms the basic construction of most of the boxes of the nineteenth century. Mahogany's density, robustness, and strength made it the ideal surface for applying exotic veneers. Since it has high resistance to saltwater effects and sea air, this solid wood was one of the top choices for making boxes intended for transport overseas.
While only a few Victorian boxes were ever entirely veneered with Satinwood, the sumptuous and costly wood was frequently employed to adorn the sections inside of the box.
Satinwood is a dazzling, shimmering yellowish golden wood endemic to Sri Lanka and Southern India. Moreover, designers often used it in conjunction with Coromandel to produce a striking contrast.
Rosewood has a strong texture with black and dark brown highlighting. Despite being from the same species, one type of Rosewood might differ significantly from another. These thick and challenging to work with Rosewoods came from Southeast Asia, India, and Brazil, and you generally find that antique boxes made of Rosewood typically cost more than traditional woods due to the difficulty of working with this wood.
Walnut is a durable close-grained wood with a complex grain pattern and colors ranging from bright brownish golden to bright grey-brown. It has been utilized in furniture production and box making for hundreds of years. Walnut veneer was expensive, with the cost mirroring the veneer's decoration style.
There are around 300 types of oak, which take about 150 to 200 years to mature. The wood starts rough and pale in color, but it finally darkens to a deep brown color with time and polishing. Oak was a famous wood in the Georgian period, and it experienced a resurgence in the late Victorian era.
People regarded coromandel as one of the most unique, elegant, and precious woods to work with during Queen Victoria's reign. It was the covering of preference for some of the most exclusive and prestigious boxes. The source of Coromandel, a close-grained, rich wood, is Southeast Asia and India. However, the natural species of Coromandel, a far more brilliant and patterned Ebony variation, was nearly extinct by the turn of the twentieth century. Boxes made of this wood generally command high prices.
Amboyna is one of the most valuable and desired burls for antique boxes and furniture. It is also one of the rarest woods in the world. Amboyna Burl, which ranges from deep yellowish orange to crimson, is renowned for its depth and elegance in high-end antique woodwork and cabinets. Boxes made from this wood type command high prices at salerooms and in any antique store.
Throughout the Regency period, Bird's Eye Maple veneers were famous; furniture makers utilized Birds Eye Maple mainly in the Victorian and Edwardian eras. The wood has a speckled appearance and polishes nicely—boxes with this veneer command high prices.
OK, So You Now Know Your History & Woods. So How Much Will An Antique Boxes Cost?
A budget of around £150-£350.00 should get you a decent antique box…
The price you pay for an antique box depends on several aspects. When was it made? What wood is used? What type of box, for example, a campaign box, jewellery box or blanket box? Who made it and when it was made? Finally, the level of decoration and craftsmanship involved in its creation.
For example, this beautiful and unique antique Victorian brass-inlaid tortoiseshell 'Boulle Marquetry' rosewood box valued at £1500 by Christie's has fine inlaid decoration and color. It is made in the manner of Edward Holmes Baldock.
Here is a Tunbridge Ware inlaid box with a lock and key for sale at £145.00. Tunbridge Ware was associated with woodworkers in the Tonbridge area in the 19th century.  The distinctive mosaic style, made by using different woods side by side and then slicing the whole into layers, came in the mid 19th century, and it is this design-build that is now generally understood to be 'Tunbridge Ware.'
Generally speaking, you should be looking at paying anything around £150.00 to £350.00 for a decent quality antique box such as writing, stationery, campaign or storage box. Other boxes can vary higher or lower in price depending on age, maker, craftsmanship and type. To give you an idea, check out our very own antique boxes for sale. Here you will be able to see a collection of various antique box types from all eras.
Let's Take A Look At Some Antique Box Types
When it comes to antique box types, you have a wide variety to choose from. Some of them can be used for alternative purposes as they were initially made for, while others cannot. So be careful when selecting a box that suits your needs. For example, a Georgian Knife box will be no good for stationary or storing jewellery. We have compiled a list of the top-selling antique box types below to help you understand what's what when it comes to box types.
Box Types:
As bibles were very expensive in olden times, boxes were crafted to store, secure and transport these precious books. Hence the name bible boxes. These boxes are usually small to medium-sized boxes and come in various woods and designs.
As the name sounds, blanket boxes were large boxes or chests used for storing blankets, sheets and other materials.
In the 18th and 19th centuries, candles were mainly made of animal tallow (mutton fat); only the well-to-do could afford actual beeswax candles. So to keep the candles safe from rats, mice and other vermin, candle boxes were used and generally attached to the wall to store the candles in.
Dating from the mid-eighteenth century, cigar boxes were initially used for the shipping and storing of cigars.
To protect liquor from being stolen or used by servants as well as for travelling. A decanter box or tantalus, usually square in shape, held up to four decanters of liquor inside them and came with a lockable lid.
Games boxes or compendiums were used to store various types of board and dice games.
As the name infers jewellery boxes we're used to store jewellery and came in various shapes, sizes and decoration, most had locks to protect the contents.
Popular in the Georgian era, Knife boxes/cutlery boxes were used to store, ship and secure expensive silverware from being stolen by servants or house visitors. Usually tall and oblong in shape.
Necessary for storing salt in older times as salt was essential for preserving food. Usually, these boxes are wall hanging and used to be placed near fires to keep the salt dry.
A very popular form of an antique box that is bought and sold a lot on the antique market is the antique sewing box used for storing all types of sewing, knitting materials and tools.
Snuff boxes are very popular and highly collectable. They can reach high prices depending on age, decoration and maker. Usually small in size and made of various materials, snuff boxes were used to store snuff.
Dating from roughly the 1880s, stamp boxes are small wood, silver and metal small boxes used for storing stamps. They are very collectable.
Another highly collectable type of antique box are stationery boxes used for storing stationery and stationery items. These come from basic to finely designed and can command high prices depending on the condition, decoration and quality of craftsmanship.
Antique storage boxes and chests are much sought after as they offer practical use today. These can range in age from the 14th century up to Edwardian times. The cost of these depends on age, wood type and decoration.
String boxes were popular throughout the 19th century and come in all shapes and designs, including novelty ones. Highly collectable and can be bought for relatively low prices.
This type of antique box is a very popular market item for both sellers and buyers. With shapes like a sarcophagus shape, box shape and oval shape, to name a few, tea caddies were used to store and secure tea, which was an expensive luxury item in earlier days. Highly collectable and generally covering the Georgian and Victorian eras.
As the name suggests, trinket boxes were made for storing and securing trinkets and jewellery. These boxes range from basic to ornate and can command high prices depending on age and craftsmanship. As they can still be used today, they generally hold their price.
Men and women used vanity boxes throughout the centuries. They generally contained things like hairbrushes, silver-topped glass jars for creams and perfumes, as well as razors and strops.
Workboxes are another very popular antique box as they can be used today for practical and display purposes. They usually had multiple compartments and sometimes drawers used to store tools and materials.
Writing boxes or campaign boxes are square in shape and offered the owner a writing slope and lots of stationery storage options. Quality writing boxes can command high prices depending on age, quality and maker.
Another very popular form of an antique box, and possibly the most popular, is the antique writing slope. As the name suggests, writing slopes have writing slopes usually made of leather together with several glass ink bottles and pen storage compartments.
Things to Consider while Buying Antique Boxes
Do your due diligence when you come to purchase….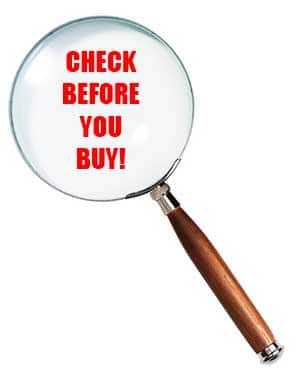 When you think you have found the right box for you, check out these critical points before you buy…
Are all the hinges and locks original?
If the hinges and locks have been replaced or repaired in modern times, this can affect the item's value.
Some boxes come with locks; however, most have not got the key with them, which can also affect the price.
Obviously, by the meaning of antique (over 100 years old) there are bound to be one of two signs of age. However, more significant condition issues such as cracks (especially underneath the bottom of the box – be sure to look) will affect the price and resale value.
Check for repairs and restoration
A lot of antique boxes have had some repair or restoration. If the repair and restoration have been expertly done, it should not affect the price. However, if there has been a botch job of replacing or repairing the antique box in question, it will undoubtedly affect the resale and purchase price and may even affect how the box can be used.
Is it a reproduction or original?
You can easily tell if the box in question is a reproduction or an antique as wood shows age and it's very hard if not impossible to mimic this aging look. A reproduction will look newer, so check over the box, look for age-related signs such as minor scratches, scuffs and the overall look of the wood. If you can't see any then it's a possible reproduction and not an original antique.