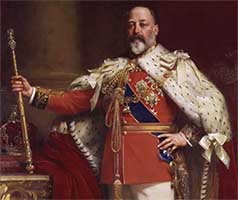 After Queen Victoria's death in 1901, her eldest son Edward VII ascended the throne. Although his reign lasted only 10 years until the outbreak of the First World War, it was marked by pivotal changes in society and the economy. They, in turn, entailed shifts in cultural life, fashion, architecture, applied art, etc., which now allows us to talk about the so-called Edwardian style. By the way, Edwardian antiques are the last true antiques since their age exceeds the required 100 years. Pieces that are 'younger' are rather vintage than antique.
Eclectic Nature of Edwardian Antiques

The revival phase, which started during the reign of Queen Victoria, continued influencing the various sides of art in the Edwardian period. This trend put eclecticism at the forefront, i.e. amalgamation of multiple historical styles. Antiques from the early 20th century are a fusion of Renaissance, Tudor, and Georgian features with a dash of designs modern at that time. The king who was a passionate traveller had the opportunity to get acquainted with new fashion trends, which were then introduced at his court and further throughout the country.
The widespread implementation of machinery flooded the market with factory-made furniture and home furnishings. Unlike the Victorian era when the quality of such items was mediocre, improvements in processing and assembly technology allowed a significant shift in the look and feel. Needless to say, machine-made pieces were cheaper than their hand-crafted counterparts, so they were very popular among the middle class.
At the same time, the beginning of the 20th century experienced a decrease in interior sizes, so home décor and furniture had to adjust.
Overall, while interior designs somehow copied the trends of the past, they carried their own unique features:
– dominance of light colours;
– thin delicate fabrics (Damask, Chintz), often adorned with simplified patterns;
– floral motifs in upholstery:
– airy and light interiors;
– furniture and home decor elements made of mahogany, wicker, bamboo, bird's-eye maple, and satinwood.
Edwardian Arts and Crafts
Another trend that originated back in the day when Queen Victoria held the throne but did not lose its relevance during the reign of Edward VII was Arts and Crafts. This movement emerged as a response to widespread industrialization. Its instigators believed that machine-made items were not good enough and that the best quality could be achieved only by hand-crafting.
Naturally, the Arts and Crafts movement borrows many designs from the past eras. At the same time, it doesn't forget to bring fresh ideas and features:
– folk motifs, themes of the Middle Ages, as well as silhouettes inspired by nature;
– introduction of Oriental (Japanese, in particular) features;
– a colossal fireplace with carved mantels as the dominant feature of the interior;
– emphasis on the natural beauty of materials;
– the prevalence of simplicity and utility over pomp and pretentiousness;
– handicrafts made of stone, wood, and metalwork throughout the home.
Edwardian Art Nouveau
While other Edwardian styles reverently nodded to the past, Art Nouveau sought inspiration in nature and everything that surrounded a person. In a way, Art Nouveau is a continuation of the ideas of the Arts and Crafts movements that developed against the backdrop of the industrial revolution. However, if Arts and Crafts focus on making items by hand, Art Nouveau is an attempt to appreciate the beauty of nature. In fact, natural materials (including exotic and previously unavailable in Britain) and natural silhouettes are the highlights of Edwardian antiques à la Art Nouveau:
– undulating asymmetrical lines, which shape animals, plants, and other natural forms;
– the most popular floral motifs include lilies, irises, orchids, as well as exotic plants;
– forged designs (stair railings, window bars, furniture, decorative items, etc.)
– mosaic, enamel, gilding, as well as copper and brass chasing;
– stained glass for window, wall decor, furniture, and accessories;
– signature colours are mustard yellow, dark red, olive, brown, blue, purple, and pastel.
How to Identify Edwardian Antique Jewellery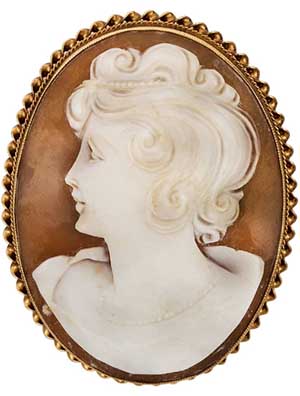 Edward was known for his fondness for luxury, balls, and extravagant lifestyle. Antique jewellery created during his reign reflects these traits of his character.
Cartier became the court jeweller for the king and his wife Alexandra of Denmark. It is thanks to the renowned jewellers we got to know the 'white on white' trend – pale and transparent inlays surrounded by white metals. In fact, white materials – platinum, diamonds, and pearls – are the hallmark of the early 20th century Cartier style.
Platinum lent itself well to intricate and ethereal openwork jewellery much-beloved by the fashionistas of that period. The ubiquitous noble metal inspired jewellers to introduce millegrain designs, i.e. tiny metal beads around an inlay or edging. Along with that, platinum came in very handy for the so-called invisible settings – they were so delicate that it seemed like gems were floating in the air.
The majority of platinum Edwardian antiques were made by drawing and rolling. Casting required melting the metal at a very high temperature, so this method was rather a rarity. More often then not, these intricate pieces are comprised of several parts, although jewellers tried to minimize their number due to solder being of a contrast gold colour. Platinum doesn't tarnish still you can notice some sort of patina on Edwardian jewellery. It is because of the aforementioned solder that utilized a mixture of gold, platinum, and silver.
De Beers Consolidated Mines Ltd. found in the late 19th century interspersed trinkets for well-to-do with diamonds of all possible shapes and cuts. It wasn't uncommon to see two, three, and even more cuts in a single piece of jewellery. That being said, single cut diamonds featuring 17 facets, as well as Swiss-cuts and European-cuts are the staples of Edwardian pieces.
Back then, diamonds weren't as valuable as they are now. The most expensive and hence most desired gemstones were white pearls. Due to their rarity and lofty price, jewellers often cut small pearls in two and mounted both halves into a setting.
Lavish receptions and balls at Buckingham Palace launched tiaras to the top tier of fashion. Plunging necklines paved the way for necklaces, especially layered pearl chains and sautoirs featuring fringed tassels at the end. The title of the most prominent necklace style belonged to collier de chien otherwise knows as dog collar, which combined a ribbon and either a brooch or a gemstone pendant.
As for the bracelets, they were ethereal and graceful. Normally, their front portion was slightly wider than the back, which transitioned into a delicate chain. Edwardian rings were large but lightweight thanks to the filigree style and diamond inlays. Earrings embraced every popular materials and design of that era. The dominant shape was a dangle showcasing wreaths and central stones, and besides platinum, earrings were also made of gossamer fabric.
Edwardian jewellery is a prominent example of how ostentatious luxury can be blended with sophistication and delicacy. Many creations of the bygone era still look relevant today. For this reason, affluent fashionistas choose centenary pieces as their wedding rings. Be that as it may, scintillating Edwardian antiques are an unrivalled investment option.